Micro drive
FC360 automation drive
FC102 Drive
FC103 Refrigeration drive
FC301/302 Automation drive
Midi drive FC280
What is a variable frequency drive?
A variable frequency drive (VFD) is a type of motor controller that drives an electric motor by varying the frequency and voltage of its power supply. The VFD also has the capacity to control ramp-up and ramp-down of the motor during start or stop, respectively.
Even though the drive controls the frequency and voltage of power supplied to the motor, we often refer to this as speed control, since the result is an adjustment of motor speed.
There are many reasons why we may want to adjust this motor speed.
For example, to
Save energy and improve system efficiency
Convert power in hybridization applications
Match the speed of the drive to the process requirements
Match the torque or power of a drive to the process requirements
Improve the working environment
Lower noise levels, for example from fans and pumps
Reduce mechanical stress on machines to extend their lifetime
Shave peak consumption to avoid peak-demand prices and reduce the motor size required
In addition, today's drives integrate networking and diagnostic capabilities to better control performance and increase productivity. So, energy savings, intelligent motor control and reduction of peak-current drawn are three great reasons to choose a VFD as the controller in every motor-driven system.The most common uses of a VFD are for control of fans, pumps and compressors, and these applications account for 75% of all drives operating globally.
Soft starters and across-the-line contactors are other, less sophisticated types of motor controllers. A soft starter is a solid-state device and provides a gentle ramp-up to full speed during startup of an electric motor.
An across-the-line contactor is a type of motor controller that applies the full line voltage to an electric motor.
What's special about drives from Danfoss?
The difference between drives from Danfoss and other suppliers is that Danfoss is global market leader in VFDs, specializing in drives only. You receive a high-quality drive which you have customized to your exact requirements. And every single drive is thoroughly tested before leaving the factory. Our experts are focused on every possible detail of drive optimization, and are always abreast of the newest technological developments. Often, we invent the newest developments. Danfoss Drives has a broad offering of VLT® and VACON® drives, and you get much more than the drive itself. You also have access to our application know-how and a range of maintenance services to keep your systems running optimally throughout the drive lifecycle.
We offer you the best possible components and full flexibility so you can fine tune system performance to suit your application exactly. An important aspect of this flexibility is the ability to use your drives with all typical motor technologies, since VLT® and VACON® drives are designed for full compatibility. This enables significant savings in spare part inventories and in retrofit situations.
What is the main advantage of using a VFD?
A variable frequency drive can vary the power supplied to match the energy requirement of the driven equipment, and this is how it saves energy or optimizes energy consumption.
The drive can dramatically reduce energy consumption when compared to direct-on-line (DOL) operation, where the motor runs at full speed regardless of the demand. Using a drive, power or fuel savings of 40% are common. The roll-on effect means that use of drives also the reduces NOx emissions and CO2 footprint of the systems in which it's installed.
Micro drives: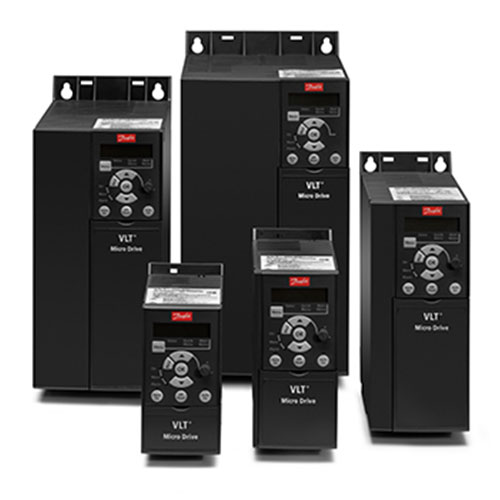 Maximum strength with reduced installation costs
The VLT® Micro Drive FC 51 is small and yet powerful and built to last. Panel space can be saved and installation costs reduced thanks to its compact size and minimal commissioning requirements.
Despite its compact size and easy commissioning, the VLT Micro Drive can be set up to perform perfectly even in complex applications. It is supported by guided programming of specific functions and the use of a PC software tool for parameterizing, and thanks to its coated PCBs, the drive ensures reliable and cost-effective operation also in demanding environments.
Supply voltages and power range
1 x 200-240 V…0.18-2.2 kW
3 x 200-240 V…0.25-3.7 kW
3 x 380-480 V..0.37-22 kW
Features and benefits.
Side-by-side mounting without de-rating is possible because of compact, book-style design.
Penetration of dust is minimized because of coated PCBs.
Radio disturbance from motor cables is limited due to built-in RFI filters.
Lifetime of the drive is extended and reliability improved as a result of the effective heat sink that removes heat from the electronics
Energy consumption can be reduced as kinetic energy in the application can be transformed into braking power to slow down the motor.
FC360 automation drive:
Energy-efficient motor control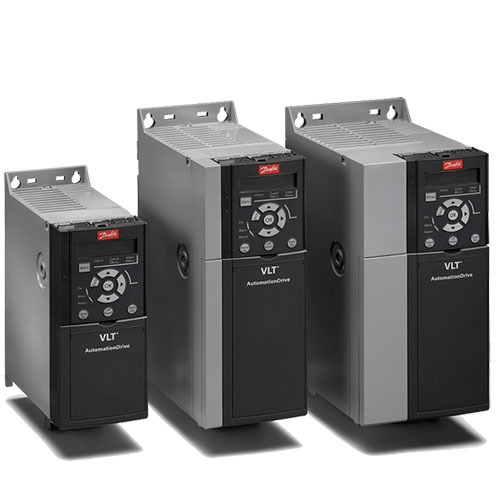 The VLT® AutomationDrive FC 360 is a compact, space-saving, general-purpose AC drive available in 5 frame sizes. Designed with ease-of-use, reliability and flexibility in mind, the basic, yet comprehensive features provide precise and energy-efficient motor control for a wide range of industrial applications.
The VLT® AutomationDrive is designed to perform reliably in harsh environments. The coated PCB reduces dust, moisture and particle issues and the maximum operating temperature is 55C. Built-in features, such as PID controller, EMC filter, DC choke and brake chopper to 22 kW, save costs and installation space. IP 20 protection, a removable fan and an enhanced numerical display ensure fast setup and simpler maintenance.
Supply voltages and power range
3 x 380 – 480 V 0.37 – 75 kW
Features and benefits
Reliable operation in many environments due ambient temperature of 50°C, unique cooling concept and coated PCB.
5–15% energy savings and reduced operational costs due to Automatic Energy Optimizer function
Fast cleaning and extended lifetime because of removable cooling fan.
No need for external controller due to built-in PID controller
Fast and easy commissioning as a result of enhanced numerical display and clear application selection guidance
FC102 Drive: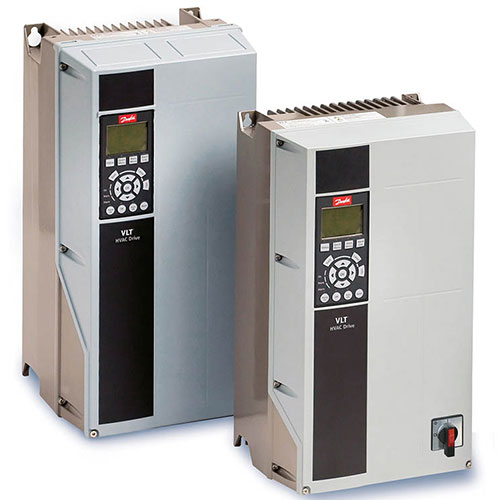 Get even more drive in your HVAC – with rock-bottom lifecycle costs in any climate
Get even higher reliability and lower total cost of ownership (TCO) in your heating, ventilation and air-conditioning (HVAC) installations, with this unique VSD optimized for building automation systems.
More than ever, the extreme climates, inaccessible machine rooms and isolated outposts of our planet need the best process control there is for their HVAC installations. Your everyday critical functions and costly systems need it too, as they face ever-increasing competition and efficiency demands. Always with high performance in mind, the enhanced VLT® HVAC Drive gives you more room to maneuver. It confronts the issues and gives you rock-solid reliability. With rock-bottom lifecycle costs too.
Supply voltages and power range
3 x 200-240 V…1.1-45 kW
3 x 380-480 V…1.1-1000 kW
3 x 525-600 V…1.1-90 kW
3 x 525-690 V…1.1-1400 kW
Features and benefits
Slim down your TCO. Ongoing demands for lower TCO are challenges the VLT® HVAC Drive can help you meet.
Install it outdoors in extreme climates. Searing heat and deep frost are all in a day's work for the enhanced VLT® HVAC Drive. You get full reliability running this drive outdoors with temperature extremes from 50°C to minus 25°C.
Control multiple IE5 PM motors. Bring energy efficiency to a new level in your fan and pump applications. You can even control multiple IE5 permanent magnet (PM) motors using only a single drive.
Save time. You can parameterize and troubleshoot the drive from outside the AHU, thanks to the remote LCP. Maximize uptime by reducing the shutdown, since there is no need to open up the AHU and lock it down again afterwards.
Get the freedom to choose your favorite motor. Choose exactly the motor you prefer, for whatever reason from supply security to performance optimization.The enhanced VLT® HVAC Drive is not only optimized to control induction, permanent magnet and synchronous reluctance motor technologies; our development team is working all the time to include compatibility with upcoming motor technologies in future software updates as well.
Get the freedom to communicate. The ability to integrate the AC drive easily into your building automation system is a key to optimal control. The VLT® HVAC Drive features a number of HVAC-specific communication protocols, such as BACnet/IP, that give you flexibility of installation in both new and existing building automation systems.
FC103 Refrigeration drive: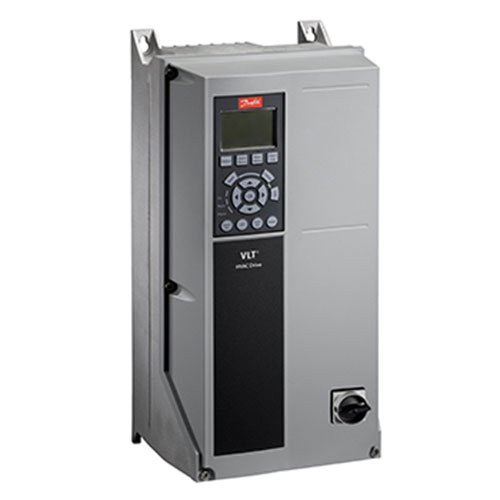 Save energy and extend the lifetime of refrigeration applications.
The VLT® Refrigeration Drive FC 103 is designed to help significantly reduce the lifecycle costs of your refrigeration systems. It offers efficiency- and reliability-enhancing features, integrated process control functions and a commissioning environment specially designed to meet the needs of refrigeration applications. It also features a setup Wizard which uses common refrigeration terms. This makes installation and commissioning easy and safe for refrigeration technicians and installers.
The continuous variable speed control provided by the VLT Refrigeration Drive makes intelligent capacity control possible. By creating stability while balancing the capacity to the actual load, system-wide coefficient of performance improves providing significant energy savings in a wide range of applications.
The drive contains all modules necessary for compliance with EMC standards. The integrated, scalable RFI filter minimizes electromagnetic interference, and the integral DC link chokes reduce harmonic distortion in the mains network. As these features are built in to the drive in the factory, cabinet space can be reduced. Efficient EMC mitigation also enables the use of cables with small cross sections which reduces installation costs.
Supply voltages and power range
3 x 200-240 V…1.1-45 kW
3 x 380-480 V…1.1-560 kW
3 x 525-600 V…1.1-7.5 kW
3 x 525-690 V…75-800 kW
Features and benefits
Energy consumption and maintenance requirements are reduced thanks to a range of pump features such as the pump cascade controller and flow compensation.
Optimum system efficiency is achieved by taking advantage of the drive's software features.
Challenging environments are no problem due to the drive's coated electronics.
The need for external cooling or oversizing is avoided as the drive operates efficiently in a maximum ambient temperature of 50°C without derating.
There are no EMC concerns as a result of integrated DC link harmonic and EMC filters
FC301/302 Automation drive: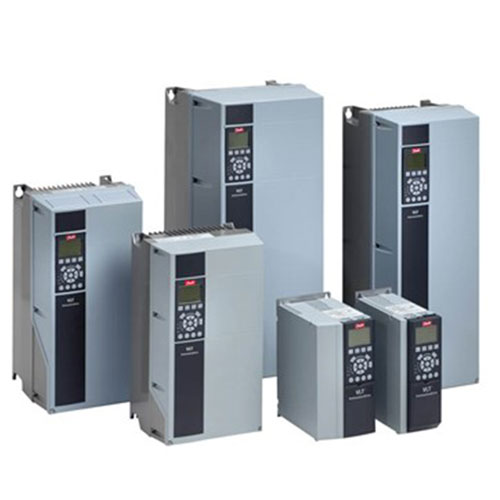 Versatile, reliable and consistently awesome Built to last, this robust drive operates effectively and reliably even with the most demanding applications and in the most challenging environments.
VLT® AutomationDrive takes full advantage of all that the new digital age has to offer to ensure it completely fulfills the requirements of your applications and optimizes your processes throughout the entire lifecycle.
Its cutting-edge thermal design and unique back-channel cooling make VLT® AutomationDrive one of the most compact and cost-efficient drives in the market. And new intelligent maintenance features and a range of DrivePro® services proactively improve productivity, performance and uptime.
Supply voltages and power range
3 x 200-240 V…0.25-37 kW
3 x 380-500 V…0.37 kW – 1.1 MW
3 x 525-600 V…0.75-75 kW
3 x 525-690 V…1.1 kW – 1.4 MW
Low harmonic drive
12-pulse drive
3 x 380-500 V…250 kW – 1 MW
3 x 525-690 V…250 kW – 1.4 MW
Features and benefits
A wide operating temperature range of -25°C to +50°C without derating ensures reliable operation when your applications take your drive to the extremes.
The flexible, modular design concept provides an extraordinarily versatile motor control solution.
The new VLT® Wireless Communication Panel LCP 103 communicates wirelessly with MyDrive® Connect making it easier to perform commissioning, operation, monitoring and maintenance tasks.
Back-channel cooling concept reduces costs, energy consumption and the size of the cooling system.
New 'ruggedized' design reduces the potential negative effects of vibration.
The need for PLC capacity is reduced thanks to Smart Logic Control.
Low lifetime costs are ensured as the drive is highly resistant to wear and tear.
The lifetime of electronics is prolonged due to back-channel cooling for enclosures D, E and F.
Commissioning and upgrades are easy due to plug-in technology.
High-precision position and synchronization thanks to availability of Integrated Motion Controller throughout the entire product range.
Features such as intelligent heat management, Safe stop and Safe Torque Off ensure safe and energy-efficient operation of the drive.
VLT® Motion Control Tool MCT 10 offers a customized commissioning experience
Integrated Motion Controller
High-precision positioning and synchronization with reduced costs and system complexity
To optimize performance, many applications across all industry sectors have a need for precise positioning and synchronization. These applications include:
rotary tables
packaging machines
labelling machines
conveyors
extruders
palletizers
To date, positioning and synchronization operations have been performed using servo drives. However, servo equipment is expensive; it is difficult to commission and requires additional cabling. And, as servo drives do not work with open loop control systems, there is a high failure rate. Many applications do not require the high dynamic performance offered by a servo drive. An alternative was to use an AC drive. But, until now, an additional internal or external module or an encoder on the motor was required.
Danfoss Drives has developed an innovative alternative to servo control. The Integrated Motion Controller (IMC) is functionality that enables an AC drive to perform high-precision positioning and synchronization operations without the need for additional modules or hardware. IMC is now configurable in the software of the VLT® AutomationDrive FC 302.
IMC has many advantages. It works with all conventional motor technologies, with closed loop or open loop control, and offers sensorless homing with torque detection. Drives are adapted to the applications through simple parameterization. This means that knowledge of servo technology or programming languages is not required. As no encoder or additional cables are needed, engineering, installation and commissioning time and costs can be reduced.
Midi drive FC280: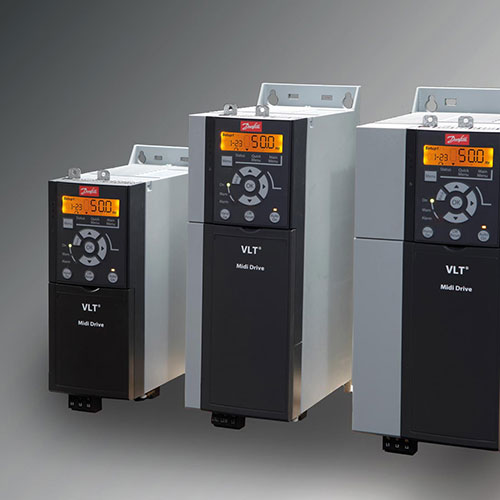 Flexible, communicative and easy to use. Fits your application.
Reach new levels of performance with the VLT® Midi Drive FC 280, the evolution of the popular VLT® 2800 drive. Profit from new savings with a wide range of features designed to make installing, using and maintaining the AC drive as simple and as easy as possible.
For precise and efficient motor control for machine builders in the food and beverage, material handling and processing industries, the VLT® Midi Drive is ideal. it is strong on control performance, functional safety and flexible fieldbus communication.
VLT® Midi Drive is designed for compatibility with the VLT® 2800. Its exterior dimensions, connectors, cable lengths and set-up software tools allow you to easily retrofit an established drive panel.
Supply voltages and power range
1 x 200-240 V…0.37-2.2 kW
3 x 200-240 V…0.37-3.7 kW
3 x 380-480 V…0.37-22 kW
Features and benefits
Compact design saves panel space.
Easy and fast installation set-up due to flexible user interfaces.
No need to install extra cooling equipment or oversize the drive as it is designed to operate at 45°C at full load and up to 55°C with de-rating.
No need to install extra components thanks to integrated harmonic mitigation, RFI filters, brake choppers and functional safety (STO).
Integrated active Power Factor Correction (PFC) significantly reduces harmonic distortion and improves power supply quality.
Moto Controls Pvt. Ltd.
No: 29/1, 1st Floor
Canara Bank Colony Road
Opp. Village Hyper Bazar
Chandra Layout
Bangalore – 560072
Ph: +91 99450 78883, +91 77608 62699
Email: [email protected]